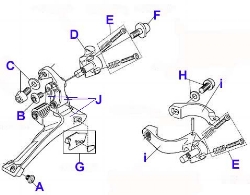 front der parts
Campagnolo Front Derailleur Small Parts
* Most Campagnolo front derailleur parts can be interchanged amongst Record, Chorus, Centaur, Veloce, Mirage and even a few older front derailleurs.

* We suggest using Le Tour Premium Chain Lube for lubricating all Campagnolo front derailleurs. A drop on each pivot point, once a month or after a rain storm, will insure long life and smooth shifting. Always wipe off excess chain lube or accumulated dirt.

* We suggest using a Park Torque Wrench, for the most accurate installation. Campagnolo recommends tightening the mounting bolt to 7 Newton Meters (N.m) or 5.2 foot pounds. The cable anchor bolt should be tightening to 5 Newton Meters (N.m) or 3.7 foot pounds.

* You may convert a braze-on front derailleur to a clamp-on model by purchasing a clamp adapter.

* Campagnolo front derailleur cages are also interchangeable. A Record front derailleur will accept a Chorus or Centaur cage assembly and vice-versa. You may also switch cage assemblies between two and three chain ring Record, Chorus or Centaur front derailleurs.

* Made in Italy by Campagnolo and backed with a three year warranty.

* Warranty service and help with technical questions is available from Campagnolo USA in Carlsbad, California USA. Call Campagnolo USA at (760) 931-0106.

* Official product manuals and more product information is also available at Campagnolo.com.